Lewisville, TX
Crown Centre at Castle Hills
A Tranquil Reprieve from the Office
expertise
Public Realm + Open Space
services
Landscape Architecture, Civil Engineering
A New Approach to Workplace Design Takes Shape
This mixed used center blends workplaces and residences with natural amenities to offer a walkable, idyllic setting.
Located in the well-established Castle Hills master planned community, Crown Centre will employ a substantial number of people living in Lewisville, Texas and provide a walkable, urban center where people can live, work, and play. A vast network of parks and trails connects more than 35 buildings across 140 acres, positioning Crown Centre as an ideal picturesque setting for the modern workplace. Upon completion, Crown Centre may include up to three-million-square-feet of office space, 140,000-square-feet of dining and shopping, 2,000 multi-family units, and as many as 500 hotel rooms, making it the largest commercial section of the Bright Realty development.
Crown Centre leverages signature design and amenities to take advantage of the natural resources on site, promote employee wellbeing, and encourage recreation to attract high-level corporate tenants to the region. Bright Realty demonstrated their commitment to the development's distinct vision through their heavy preliminary investment in road, grading, and stormwater infrastructure improvements to make the project achievable. A memorable procession onto the site skirts two glimmering lakes, traverses stone outcroppings, and encounters lush landscaping all around–just a sample of what the future remaining land yet to be developed may come to look like.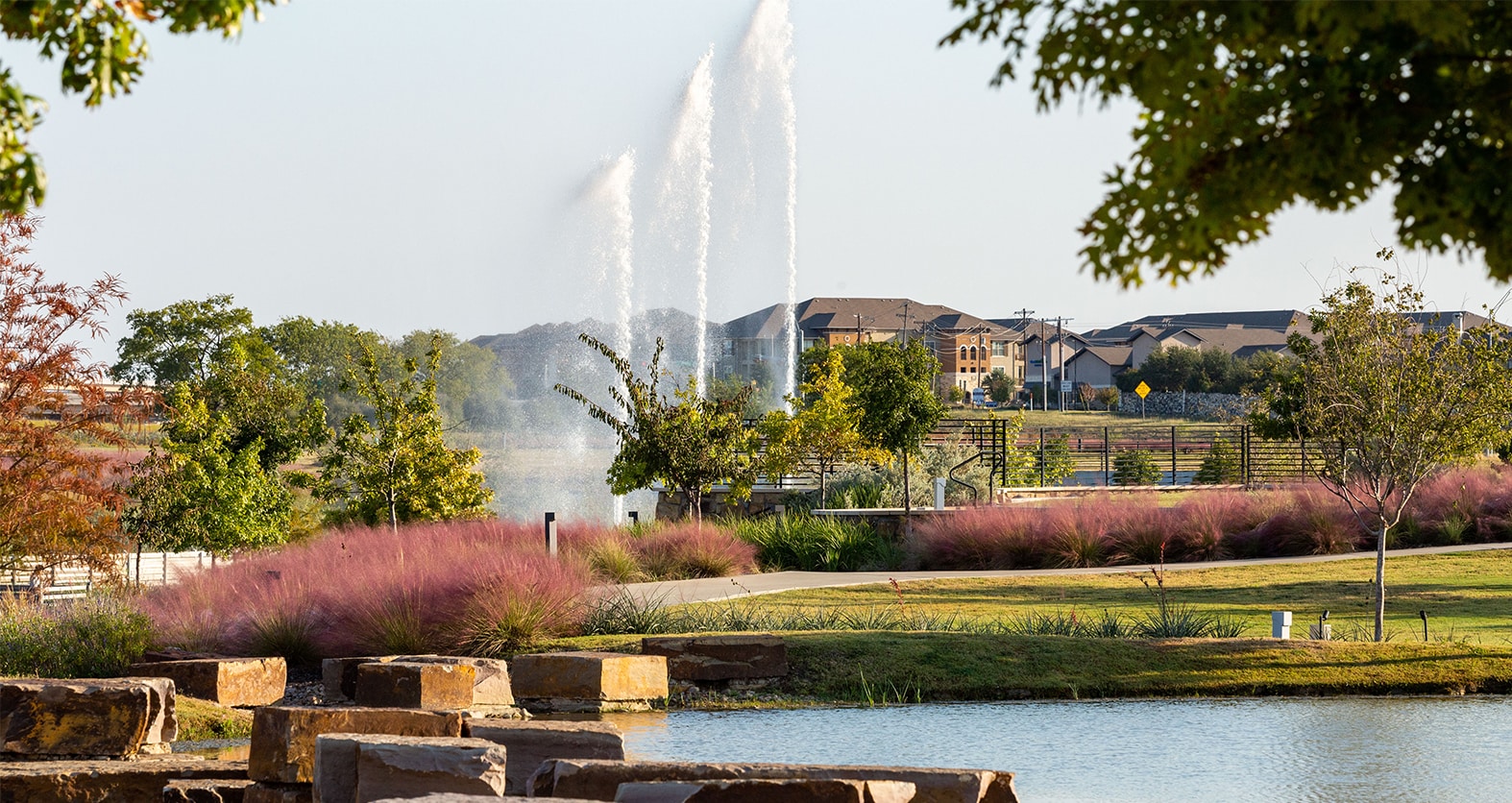 The vision for Crown Centre blends multi-family buildings with office and retail spaces, encouraging pedestrian activity and use throughout all hours of the day. An extensive network of open spaces and walking trails connect the different uses, creating a natural oasis within the urban mixed use setting.
The first phase of development features two large water feature lakes, visible from the main entry road. In addition to fulfilling stormwater management requirements for the development and roadway, these lakes form a common space for the community. Informal lawn areas, lounge seating nooks, shaded trellis structures, and a performance area provide communal spaces where casual meetings and impromptu exchanges occur. Meanwhile, meandering paths, wooden boardwalks, a rock waterfall, and numerous overlooks compose a restful backdrop for residents and employees to relax and recharge.
As the only section of the Castle Hills development west of State Highway 121, the 140-acre parcel of land where Crown Centre sits is separated from the surrounding residential and retail amenities. The developer needed to attract attention to this corner of the development and strategically stitch it to the rest of the Castle Hills community. LandDesign helped rezone Crown Centre from a single-use office park to a live, work, play mix of uses that complements the existing downtown core and sets Crown Centre apart from traditional office spaces.