High growth cities across the country are plagued with a shortage of accessible housing options for low-income residents. Historically, the movement for affordable housing has been highly stigmatized as many believe that affordable housing is public or Section 8 housing. This misconception is damaging and ignores the purpose and potential this housing type possesses for revolutionizing the residential experience for those of all financial backgrounds. Through my experience working alongside local advocates for affordable housing, I have noticed the necessity to expand the definition of affordable to attainable, eliminating any barriers from all members of our community in accessing high quality housing.
One of the greatest hurdles in delivering economic housing to market is, ironically, the funding. In order to assemble the necessary capital, every team member has a role to play, including engineers and designers. We hold great potential to positively impact the housing crisis by providing cost-efficient design solutions, such as finding exemptions through stormwater solutions, prioritizing tree-save or seeking alternative funding for necessary infrastructure, like sidewalks and driveways. However, one of the gatekeepers to reaching this point in the process is finding quality, affordable land.
In growing areas like Ballantyne in South Charlotte, the demand for housing is causing land prices to soar, making it nearly impossible for affordable housing developers to provide attainable housing options in appealing neighborhoods. Today, we look to communities like Brightwalk which have proven that mixed-income housing can be successful in urban areas.
Affordable housing is built to market standards, no different than any other apartment complex, and this misconception discourages communities from embracing affordable housing as a value-add to their greater community.
- Frank McMahan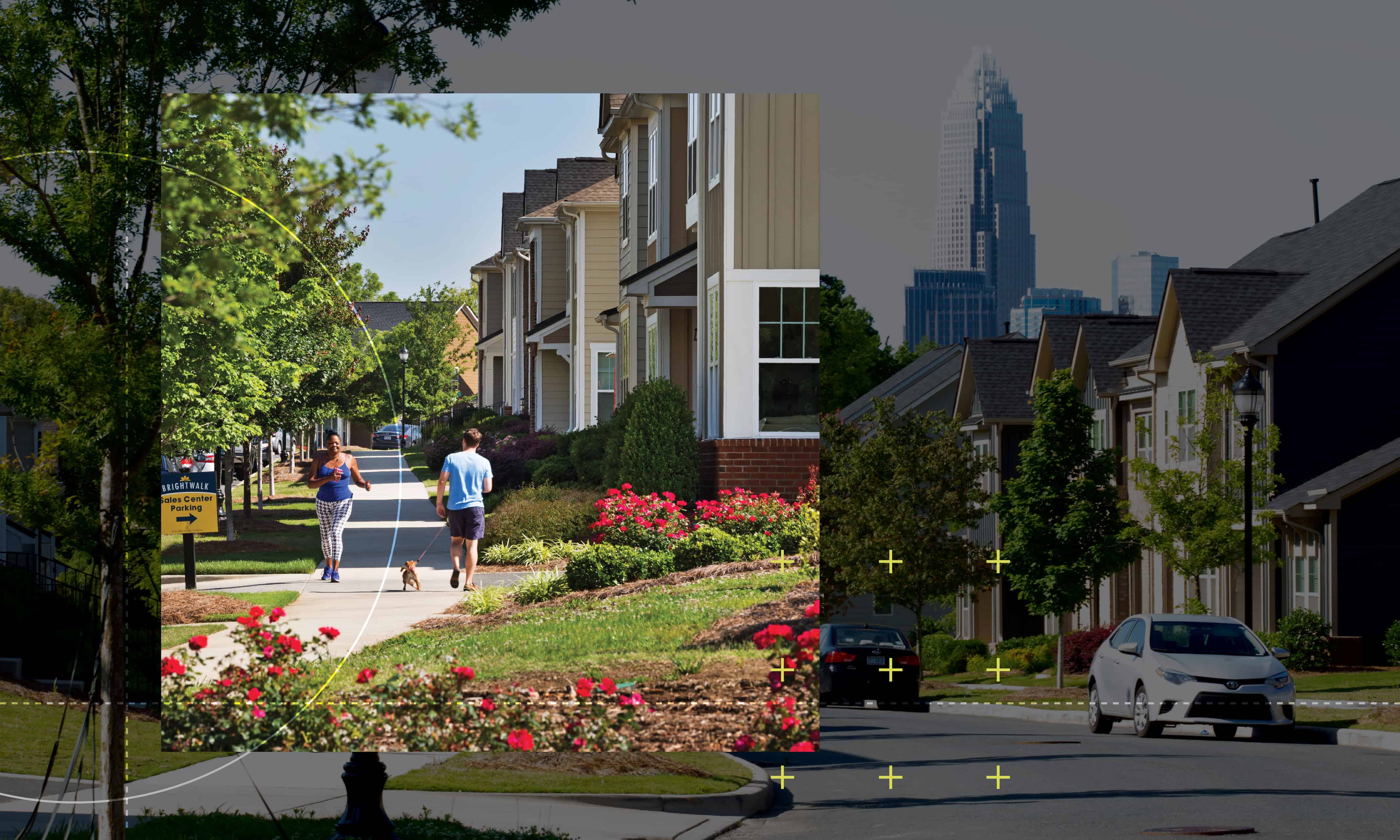 In 2007, DreamKey Partners, (formerly Charlotte-Mecklenburg Housing Partnership) purchased the Double Oaks neighborhood located in North End Charlotte. The community was crime-ridden and afflicted with environmental challenges that made the neighborhood a less than desirable place to live. A partnership collective of private developers, non-profits, public entities and design consultants came together to define a new future for the community, now known as Brightwalk. As the first, transformational mixed-income community in Charlotte, Brightwalk has set the standard for future affordable housing developments throughout the city.
Today, Charlotte is over 5,000 units deficient in affordable housing and it's going to take years to close the gap. Affordable units have a 15-year lifespan and the cycle of affordable units being delivered is equally matched by how quickly they are taken off the market, renovated and sold for profit. In reality, affordable housing not only adheres to jurisdictional standards but also meets additional guidelines that are dictated by the state in order to obtain and utilize low-income housing tax credits. What many do not understand about affordable housing is that it's built to market rate standards, no different than any other apartment complex, and this misconception discourages communities from embracing affordable housing as a value-add to their greater community.
Through my experience working on Brightwalk, I realized the challenges Charlotte was facing to offer low-income residents attainable, high-quality housing options and the COVID-19 pandemic has only exemplified the need to rethink how we perceive housing. The number of individuals renting has increased exponentially over the last decade resulting in the prioritization in multi-family development in our inner cities. But those who are looking for central, accessible housing are not limited to one demographic. The role of affordable housing is to accommodate our civil servants and working class—the class of people who have been most impacted by the pandemic.
As partners to the community, we have a duty to meet their needs, and the need here cannot be ignored. Affordable housing projects take approximately eight months longer to complete than non-affordable projects. However, everyone involved in the process from the developer to city and state legislators understand how difficult and complex this process is. As engineers and designers, we must work to streamline this process and anticipate challenges ahead of time so that we can build a more attainable future for all members of our community.
People in this post: